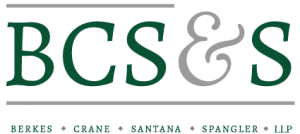 Berkes Crane Robinson & Seal is now Berkes Crane Santana & Spangler, LLP
The firm's recent name change reflects the long-time leadership of partners Carmen Santana and Viiu Spangler who have both been with the firm since 2001. Their leadership will take the firm into the future and continue to provide excellent service to all their clients while mentoring attorneys to be the next generation of leaders.
Since January 2020, this nationally-recognized firm has been majority women-owned and its attorneys have been consistently ranked Chambers USA America's Leading Business Lawyers, The Best Lawyers in America, California Magazine Super Lawyers, Pasadena Magazine Top Lawyers and California Who's Who Legal.
Founded by Robert Berkes, Steven Crane, Ronald Robinson and James Seal in 2001, the firm has grown to over 20 attorneys and is honored to be included as a U.S. News & World Report's Best Law Firm™ since 2010.